joyous rawfood days with Regina Franziska Rau
from 26.-29. August - at the Binsalm at the Karwendelgebirge Bavaria/Austria
meeting point: 10.00 o'clock in front of the stairs of the Alpengasthof Eng Souvenier-Shop


RawFood days together
at the Binsalm at the Karwendelgebirge
meeting spot in front of the stairs to the Souvenier Shop - left side on the foto
Please park your car at the big parking place at the Alpengasthof Eng. It is prohibited to drive up to the Binsalm. If you want your backback lifted up with the Alp-Taxi, please be on time at the meeting spot (Alpengasthof Eng Souvenier-Shop) at 10.00 o*clock on 26th of August 2016. We meet in front of the stairs to the Souveniershop.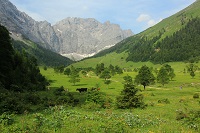 Together we go pleasure hiking (no sport event) in the fantastic Landscape of the Karwendel Mountains. We will see rare animals, we will experience the power of the wild Herbs and Raw-Food, we exchange spiritually within the wonderfull and quiet environment. These common days in the mountains are a highly intensive and a unique experience!
The wonderful and picturesque backdrop of the Karwendel Silverregion in the Eng (Bavaria/Austria) are awaiting us.
You are interested in you own vitality, health, joy of life, and in nature - and for things which are invisible for the eye?! We change the world, by changing ourselves from the inside!

This rawfoodsummit ieser Frohkostgipfel is marked by wild herbs and coming in touch with nature. Wild herb food does not only do good - it also can be very delicious! During these days I will show you, which herbs are raw edible, in which amounts, and how you can prepare them. Herbal-Food is not only vital ... but is also able, to bring back the people's health, and keep them healthy and vital ...

A big change is going on in the world. In the Mountains you find quietness and peace with and within yourself.

I love to be in the mountains - and I love the rawfood, which switches on the light from within and brings great joy! So during a wonderful hiking 2011 in the Karwendel Mountains to the Halleranger I had the idea for the Rawfood-Summit. It is a pleasure for me to share my many years of experience with you. Also regarding reincarnation and how it affects our lives in every moment - here and now!

Come with us - we would be pleased to see you!
Regina and the RawFood Summit Team